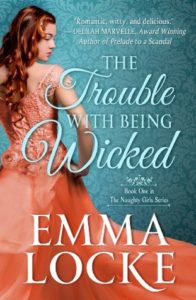 The Trouble with Being Wicked
by: Emma Locke
Pages: 326
Published: December 9th 2012 by Intrepid Reads
From Goodreads: HE PUT HER ON A PEDESTAL
When Celeste Gray arrives in the sleepy village of Brixcombe-on-the-Bay, she thinks she's one step closer to leaving her notorious past behind. She even suspects the deliciously handsome—if somewhat stuffy—viscount next door is developing a tendre for her. That is, until the day Ashlin Lancester learns she's not the unassuming spinster she's pretending to be.
NOW SHE HAS FARTHER TO FALL
After a decade of proving he is nothing like his profligate father, Ash is horrified to have given his heart to a Cyprian. He launches a campaign to prove his attraction is nothing more than a sordid reaction he can't control. But he soon learns that unlike his father, he can't find comfort in the arms of just any woman. He needs Celeste. When he takes her as his mistress, he's still not satisfied, and the many late nights in her arms only make him want more…
So every once in a while I go on a mini shopping spree of free books from Kindle. This is the first book I decided to read from one of those sprees and I was pleasantly surprised. I'm never sure what I'm going to get from free books. I love a good historical romance, especially one where the heroine isn't your standard lady of the ton that follows the rules. Celeste is tough and a ton of fun. She's strong in the face of a man who isn't sure how to handle her. Maybe I love heroines so much like that because in an ideal world I would be that awesome. This was a great book to help me escape from the real world around me. Ashlin was a pretty good hero. I can't say he was my favorite book boyfriend. He was a little bit too goody goody and had more trouble adapting and accepting the situation in front of him than I would have liked, but I guess maybe if he'd accepted too easily there wouldn't be as much of a story. Regardless of that I thought this book was a ton of fun and a great free read. If you're a historical romance fan like me, I'd recommend picking this up! I even picked up the next couple. I was willing to spend money to spend more time in this world so that should tell you how much I enjoyed this book!
Cupcakes: