So this one might not have been on the list I've been trying to read through, but it's one I've been wanted to read for a while. The cover is so gorgeous and every time I found myself looking around the young adult section at Barnes and Noble this cover stuck out to me.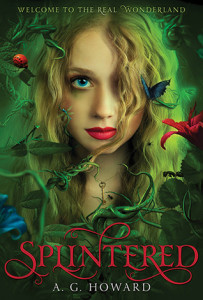 Splintered
by: AG Howard
Pages: 371
Published: January 1st 2013 by Amulet Books
ISBN: 9781419704284
From Goodreads: This stunning debut captures the grotesque madness of a mystical under-land, as well as a girl's pangs of first love and independence.
Alyssa Gardner hears the whispers of bugs and flowers—precisely the affliction that landed her mother in a mental hospital years before. This family curse stretches back to her ancestor Alice Liddell, the real-life inspiration for Lewis Carroll's Alice's Adventures in Wonderland. Alyssa might be crazy, but she manages to keep it together. For now.
When her mother's mental health takes a turn for the worse, Alyssa learns that what she thought was fiction is based in terrifying reality. The real Wonderland is a place far darker and more twisted than Lewis Carroll ever let on. There, Alyssa must pass a series of tests, including draining an ocean of Alice's tears, waking the slumbering tea party, and subduing a vicious bandersnatch, to fix Alice's mistakes and save her family. She must also decide whom to trust: Jeb, her gorgeous best friend and secret crush, or the sexy but suspicious Morpheus, her guide through Wonderland, who may have dark motives of his own.
****
This book was a crazy wild ride. Probably one of the most absurd books I've ever read, and I was an English major. The book was very plainly written but I still found myself getting lost occasionally because I wasn't even sure what was happening anymore. That's not saying that I didn't like the book though. I really did. I think the author has an amazing world in her head that must be killing her trying to get out. It's so rich and crazy and vibrant. I loved Alyssa SO SO SO much. She was so much stronger than I was as a teenager and if I'd read this book back then she would've been my hero. This is something I usually don't care about, but I loved the descriptions of her clothes as well. I was so jealous of her wardrobe. Teenage me was drooling everywhere for those clothes. I think I loved this book so much because it reminded me of who I was in a simpler time of life. The world was also so descriptive and beautiful. It's really a ton of fun. Sometimes it's a little confusing but that's only because it's so different from our own world. I also loved how the author blended that world with the everyday world. It's a quick read that let's you escape for a while. I read it on the beach all day in Puerto Rico. I recommend this book to any YA fan looking for something different. 🙂
Cupcakes: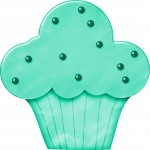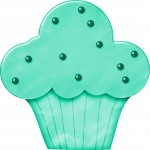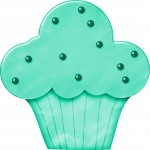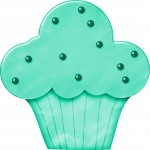 Buy this from Amazon here: Splintered (Splintered Series #1): Splintered Book One