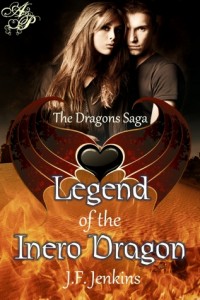 by: J.F. Jenkins
Pages: 180
Published: January 16th 2012 by Astraea Press
ASIN: B006YTWBRQ
From Goodreads: Twin brothers Jason and Matthias Inero are the favorite sons of the great dragon lord of fire. More often than not they get whatever they want. Matt wants to do great things for his people while Jason wants to go off and explore the world. Both can have what they desire, but not until they take a bride and enter into adulthood.
Enter Kat and Gwen, two girls from very different backgrounds. Kat is happy to leave her home when the royal guard comes to bring her to loving arms of her childhood sweetheart, Matt. Gwen on the other hand is livid to be taken from her farm only to be thrust into Jason's life, and he's not to thrilled with the idea either. They have one year to find happiness with each other, or else they will be placed at the mercy of the ruthless dragon lord Lynx. Favorite or not, dragon law must be obeyed.
As their nation begins to prepare for war against a neighboring tribe, the brothers find themselves as key components in the battle plans. A dark prophet has had a vision of Inero victory, but at what cost? Both must decide where their loyalties lie and what they're willing to sacrifice – including each other – to achieve their goals.
This is the second in the Dragons Saga. This novel focuses on the Inero dragons, who were the enemies in the previous novel. So naturally, I went into this story wanting to hate them. Of course, as the story progressed I started to understand where they were coming from and why they did the things they did. I love stories that make me see both sides and the line between "good" and "bad" gets blurred. I also really enjoyed that this novel takes place at the same time as the other one. It really is a different view of the same period of time. I have to say, I enjoyed the way this society worked a lot better than the Oceina one. I think that the way they choose their wives is a lot better, even if the majority of those relationships don't last. I liked that Kat and Matt were sweethearts before all of the drama occurs. I'm always a sucker for young love that's meant to be. I also liked the way Gwen and Jason's relationship develops. They learn to love each other even though everything is against them in the beginning.  Overall, I enjoyed this novel even more than the previous one. I think this is a great setup for what's to come in this series and I'd say that anyone that picks the previous novel and this one up is going to want to keep going. You can't just stop with this one! Like I said in my previous review, these are dragons like you've never seen before! If you're a fantasy/young adult fan, pick these up and get absorbed into a new kind of fantasy world. 🙂
Buy this from Amazon here: Legend of the Inero Dragon (The Dragons Saga)