I just want to say that I apologize for my MIA status for the last couple of weeks. I've been very busy and then I was really sick for a while. I'm back in action and am about to start cranking out the reviews! And vlogs! On my youtube channel.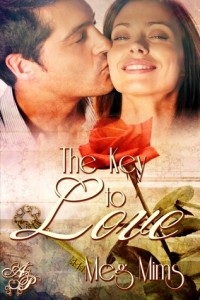 by: Meg Mims
Pages: 106
Published: February 2nd 2012 by Astraea Press
ISBN: 9781621350
From Goodreads: Artist Jennette Jacobson clashes with a handsome visitor at a gallery show. He claims that artwork is just "more junk to dust." Ouch. When she finds a small metal object on the floor, she uses it later in a new collage.
Her world soon crumbles with family problems and a friend's betrayal. And wouldn't you know that the same hunky guy claims he lost an important key the night of the show! When Steve Harmon offers to buy Jenn's work, she refuses to sell. He'll just trash it to free his precious key.
Or is it possible that key will unlock her future happiness?
I read this book in one sitting. I thought it was really cute and exactly the kind of story I was looking to read. It was a very cute romance that showed how people can have an affect on people that they never would have expected. Both the hero and heroine changes the other one's life dramatically without expecting it. I liked the way art played such an important part in the story, it seemed like a very unique way for people to meet and I soaked up every little bit of this story. This story was also very well written and moved along at a very good pace. There was never any part of the story where I felt like we were getting too much backstory or too much inner monologue, everything felt perfectly timed. I would definitely recommend this story to anyone looking for something very easy and fun to read. This is the kind of romance where there is actually a connection between the two characters and you walk away from it feeling like they really did want to be together. 🙂
Buy this from Amazon here: The Key to Love by Meg Mims