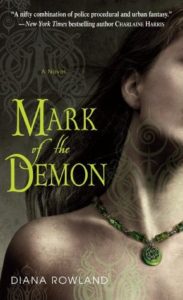 by: Diana Rowland
Pages: 370
Published: June 23rd 2009 by Bantam
ISBN: 9780553592351
From Goodreads: Cop and conjurer of demons, she's a woman in danger of losing control—to a power that could kill….
Why me? Why now? That's what Beaulac, Louisiana, detective Kara Gillian was asking herself when an angelic creature named Rhyzkahl unexpectedly appeared during a routine summoning. Kara was hoping to use her occult skills to catch a serial killer, but never had she conjured anything like this unearthly beautiful and unspeakably powerful being whose very touch set off exquisite new dimensions of pleasure. But can she enlist his aid in helping her stop a killer who's already claimed the lives—and souls—of thirteen people? And should she? The Symbol Man is a nightmare that the city thought had ended three years ago. Now he's back for an encore and leaving every indication on the flesh of his victims that he, too, is well versed in demonic lore.
Kara may be the only cop on Beaulac's small force able to stop the killer, but it is her first homicide case. Yet with Rhyzkahl haunting her dreams, and a handsome yet disapproving FBI agent dogging her waking footsteps, she may be in way over her head…
****
This book has been on my TBR pile for quite a while. The author was the keynote speaker at a luncheon my writer's group hosted last year and I bought every book in this series. I'd already read the white trash zombie novels and adored those, so I wanted to give this series a shot. To be completely honest though, I wasn't as excited because it was a procedural. I'm not really that big of a fan of those. Mainly because I think they're overdone and don't have the kinds of stories I'm looking for. This was so so good though. I gobbled it up and couldn't wait for more. I think the demon twist was exactly what I needed to keep me interested and invested in the case. It's very well written. The main character having to hide from everyone she works with may not be the most original idea out there, especially when it comes to urban fantasy, but I loved it just the same. It was interesting watching Kara solve the case using her arcane skills and knowledge that no one else had. I thought the characters were well thought out and I enjoyed getting to know them. I was little torn with whether there was a love interest or not, so the romance element is definitely not very heavy in this book, so if that's what you're looking for you may be a little disappointed. The story even surprised me at the end. I thought for sure what I'd been suspecting was right and everything was confirming that and then BOOM! twist. Ha. It was really good though and I recommend it to any mystery/urban fantasy fan. I'm already halfway through the second book. I'll be writing a review for that one soon.
Cupcakes: