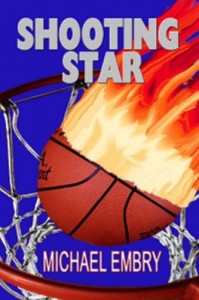 by: Michael Embry
Published: April 5th, 2011 by Wings ePress
ASIN: B004VFV7UW
From Goodreads: Jesse Christopher finds out that it's not easy being the new kid in school, no matter how well you play basketball. When discovered shooting hoops at a school playground by a high school coach, Jesse seems to be the missing piece to the puzzle for a team that aspires to win the Kentucky state championship.
But Jesse faces an array of problems in his new environment as he tries to make friends in the classroom and become part of the school's close-knit basketball team. Can Jesse overcome the obstacles and lead his team to a state high school basketball title?
The thing I liked most about this novel is that it teaches moral lessons to kids and young adults that might be reading this. Jesse is a main character to admire. He is the picture of what parents hope their kids can become whether they are talented in sports or not. There are many different conflicts that Jesse has to deal with over the course of the novel, including jealousy, prejudice, and injury… and he does it all in a mature way that makes you have hope for future generations. I'm normally not a big fan of sports stories, but this kept me entertained and wanting to keep turning the pages, especially when things got down to the wire for the Pioneers. There were times that I found the dialogue and characters in this novel to fall a little flat, but this novel isn't so much about individual character development as it is about team development. I think there are a lot of great lessons to learn including ones on teamwork, responsibility, and forgiveness. As well as important lessons about standing up for oneself and not letting other people's negative attitudes bring you down. Overall, this was a very uplifting story and I think if you're looking for a light and fun read, especially if you're a basketball fan, then you won't be disappointed in this novel!