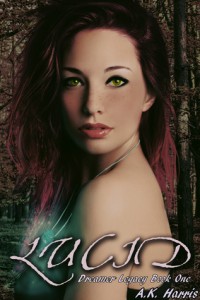 by: AK Harris
Pages: 256
Published: July 23rd, 2013
ASIN: B00E48DNVC
From Goodreads: I have dreams just like anyone else. The only difference?
My dreams are killing me… Literally.
Seventeen year old Mercy Clarke has gone crazy. Shes sure of it. Getting killed every night in her dreams, only to wake up feeling like she never fell asleep in the first place. She just wants the nightmares to end, that is until the mysterious Deegan O'Foalain shows up in them as well. But when the nightmares start bleeding into her real life, there is a lot more at stake than just her sanity. Now she has to find a way to stop the nightmares before the beasts inside them, find her or her family.
There were things I liked and disliked about this book. What I really liked was the concept, I've always been a fan of stories that play with dreaming. It's fascinating to me. The extreme this novel took dreaming to was amazing. I loved that part. I wanted to figure out what was going on in her dreams so badly that I kept wanting to turn the pages hoping I'd learn something. I ended up being kind of disappointed though because this book doesn't wrap everything up at the end. We are left with a pretty big cliffhanger and that's not something I'm a fan of. I want to want to continue the series, not have to in order to finish just this story. Also, there were a lot of typos that kind of drove me a little crazy, but that may just be because editing is what I want to do for a living. By the end of the story I was attached to the characters and I would be willing to give the next book(s) a shot. There were definitely interesting parts and I think that this author shows promise. I think there's places this story could go that would be really interesting and I hope we get to see that happen. 🙂
Buy this from Amazon here:Lucid: Dreamer Legacy Book 1 (Volume 1)