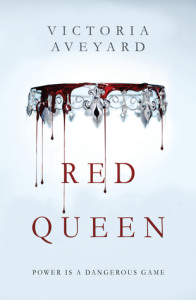 Red Queen
by: Victoria Aveyard
Pages: 383
Published: February 10th 2015 by Orion
ISBN:  9781409151173
From Goodreads: This is a world divided by blood – red or silver.
The Reds are commoners, ruled by a Silver elite in possession of god-like superpowers. And to Mare Barrow, a seventeen-year-old Red girl from the poverty-stricken Stilts, it seems like nothing will ever change.
That is, until she finds herself working in the Silver Palace. Here, surrounded by the people she hates the most, Mare discovers that, despite her red blood, she possesses a deadly power of her own. One that threatens to destroy the balance of power.
Fearful of Mare's potential, the Silvers hide her in plain view, declaring her a long-lost Silver princess, now engaged to a Silver prince. Despite knowing that one misstep would mean her death, Mare works silently to help the Red Guard, a militant resistance group, and bring down the Silver regime.
But this is a world of betrayal and lies, and Mare has entered a dangerous dance – Reds against Silvers, prince against prince, and Mare against her own heart…
This book came with a lot of hype. I kept seeing pictures of it everywhere and the cover is just so pretty. It made me think this would be the next big book series for me and I was excited about actually not being too late to the party for once.
Except I was disappointed. I listened to this book to and from work because that's part of my plan to get more books read. I admit that I'm not always the best at listening to books, but I've been kind of on a roll with them lately and assuming they aren't too complex and full of a bazillion characters I tend to keep up just fine.
This book made me long for the end though. I was so tired of the main character by the end of the book that I was kind of hoping the bad guys got her. I don't know whether the voice actor just made her too whiny or if that's how she was written. I'll admit that this could be, but I don't really think so. She just whined absolutely all of the time. She also had no sense of loyalty. It seemed like she'd complain about helping anyone and about people betraying her when she was just as quick to do that if she thought she'd have the most to gain out of it. She also was so angry about not being special all the time it made me want to hit her. She just wanted attention and validation ALL THE TIME. It got really hard to care about after a while.
I thought the world was really cool and I was actually pretty excited about the book when I started. About halfway through her whining had gotten to me and it was a struggle for me to finish the book. The different blood types and abilities were cool, but it seemed sort of unrealistic to me that she wouldn't have had anything happen with her powers before it did. I think she would've noticed at least SOMETHING before. 
The weird thing about me is I don't know if this is going to keep me from continuing the series. I'm probably gonna give the next book a shot to see if it gets any better for me. I know it has been very well received and is going to be a movie.