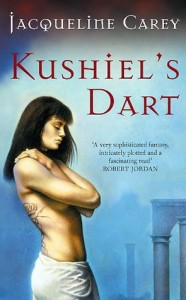 Pages: 1015
Published: September 5th 2003 by Tor Fantasy
Buy from Amazon: Kushiel's Dart (Kushiel's Legacy)
From Goodreads: The land of Terre d'Ange is a place of unsurpassing beauty and grace. It is said that angels found the land and saw it was good… and the ensuing race that rose from the seed of angels and men live by one simple rule: Love as thou wilt.
Phèdre nó Delaunay is a young woman who was born with a scarlet mote in her left eye. Sold into indentured servitude as a child, her bond is purchased by Anafiel Delaunay, a nobleman with very a special mission… and the first one to recognize who and what she is: one pricked by Kushiel's Dart, chosen to forever experience pain and pleasure as one.
Phèdre is trained equally in the courtly arts and the talents of the bedchamber, but, above all, the ability to observe, remember, and analyze. Almost as talented a spy as she is courtesan, Phèdre stumbles upon a plot that threatens the very foundations of her homeland. Treachery sets her on her path; love and honor goad her further. And in the doing, it will take her to the edge of despair… and beyond. Hateful friend, loving enemy, beloved assassin; they can all wear the same glittering mask in this world, and Phèdre will get but one chance to save all that she holds dear.
Set in a world of cunning poets, deadly courtiers, heroic traitors, and a truly Machiavellian villainess, this is a novel of grandeur, luxuriance, sacrifice, betrayal, and deeply laid conspiracies. Not since Dune has there been an epic on the scale of Kushiel's Dart-a massive tale about the violent death of an old age, and the birth of a new.
Yay! Let's get started crushing my TBR pile!
I'm also open to suggestions for things I should add to the pile. Leave me comments or email me at paperbacksandfrosting@gmail.com.
The first book I chose was Kushiel's Dart by Jacqueline Carey. I chose this because these books have kind of called my name for a long time. I'll see them at the library or at the bookstore and just want to take them home with me. They're very pretty. I didn't know much about them except that they were controversial and a fantasy. I love fantasies and am always looking for new worlds to explore.
This is a fantasy unlike any other I've ever read. But before you freak out and expect it to be because of the sex, let me stop you right there. Yes, sex is a part of this book, but it isn't the main theme in this book. While we're on the subject though, let's get it out of the way since I know that's what most of the people looking to read this book want to know about. Yes, it's kinky and not regular vanilla sex. It's not romantic either, but all of it is necessary to the story, which is something I loved. I hate when sex is in a book just for it to be there. It should mean something to the story. It definitely does in this book. But it's not as prevalent as the other reviews of this book would make you believe. This is not a small book. It's a ton of pages and the percentage of those that have sex scenes written on them is very small. It's also not as graphic as you may think by reading some of the reviews. I've read books with regular vanilla sex in them that had scenes that were a lot more graphic and made me way more uncomfortable. But like I said, this isn't regular vanilla, so if you're squeamish at all about that kind of stuff, then unfortunately this may not be the book for you. It is essential to the plot and you'd miss a lot if you had to skip over everything.
Now, with that out of the way, let's get down to the more important things. 😉
This book is complicated. I'm not good at billions of characters and this book does have that. This was one of the big downsides of this book for me. I knew it would be as soon as I opened it up. There are lists of characters that take up multiple pages in the beginning. That's a huge red flag for me, but I know that doesn't mean the story isn't good, so I dove right on in anyway. I was pleasantly surprised. Yes, the book has a lot of characters and I'm not going to lie to you and tell you that I didn't get confused. I did. Quite a bit. I'm a tough reader though so I managed to keep up with the story and enjoy it even with that confusion.
The relationships in this novel are awesome. My favorite part about any story I read is the connection I feel between the characters. This book has a ton of that. Not only can I feel the connections but I can feel the differences in all of them. That's the sign of an incredible author right there. In everyday life you the relationship you form with one person is going to feel different than the relationship you form with another person, but that doesn't mean they're not equal in their value to you. I could feel all of that in this story. Phedra's heart is so big and she feels so much and I could feel all of those complexities and I loved it.
There is also a lot of intrigue and scheming and all of that good stuff in this novel. I'm normally not as big a fan of all of that, but for the most part I liked it in this book. Not 100% of the time, but most of the time. If you are a fan of GoT and are looking for another series to tide you over, I think this is one you should definitely pick up. The world is just as rich and there's just as much scheming.
The other downside for me is the fantasy element is actually quite light. Yes, this is clearly a different world and it runs differently than our own, but there isn't magic or dragons or anything like that. That was slightly disappointing to me and maybe that's my own fault. I don't like researching books much before I pick them up. I think that gives away too much of the story and takes that element of surprise away from me. So yep, no magic, that made me sad, but it is a very rich new world I was able to explore.
With all that being said, my review of this book is positive. I'd say pick it up if you're a fantasy fan and aren't intimidated by long books or sex. It's a fun read and the world is great to get lost in. Overall, I'd recommend it and plan on continuing the series.