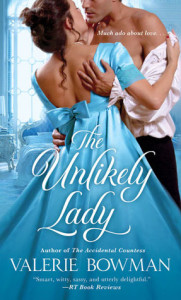 Pages: 352
Published: May 5th, 2015 by St. Martin's Paperbacks
ISBN: 9781250042095
From Goodreads: Miss Jane Lowndes is a confirmed bluestocking. She's convinced that if she can wait out her parents' demand that she marry, someday she can be a confirmed spinster and hold intellectual salons, her fondest dream. No man wants a bluestocking for a wife, after all. And that's exactly the way Jane likes it. In fact, she's invented a fictitious chaperone to help her achieve that purpose.
Lord Garrett Upton is a devil-may-care confirmed bachelor. He's lived through the war, and now that he's back in London, he intends to enjoy life to the fullest. Marriage is certainly not a part of that plan. He's known Miss Lowndes for years, and the two of them have long engaged in a war of words. Jane's latest scheme to pretend she has a fake chaperone is none of his business . . . until her desire to involve herself in a scandal becomes all too personal.
When Garrett and Jane mistakenly kiss at a wedding party masquerade, their well-documented dislike for each other is turned on its ear. And when a devious widow, who will stop at nothing to have Garrett, plots to keep them apart, will their desire for each other overcome their dreams of remaining unattached?
I got this book from the author in exchange for an early review and let me just say…. wow! I feel like the luckiest girl in the world! This book exceeded my expectations and they were already pretty high. Jane is definitely someone I would want to be or at least be best friends with. I don't want to be a spinster, but I definitely agree with her about books being the best company. Also, can I just say that Garrett is my favorite hero of all time? He really is. I don't want to give too much away with this review, but let me just say if you're a die hard bookworm like I am, you're going to adore him as well. He's dreamy and wonderful and everything we could hope for in a guy.
I read the first two books in this series and I absolutely loved them! I loved this one even more! This one was definitely my favorite. So if you've read the first two, you'll want to pick this one up in May because it's everything you've loved about the first two and more. If you haven't read any of this books, then pick one up, especially this one, because you're in for a treat! I've devoured all three and they're a wonderful and funny escape from reality. The writing is quick and clever and just so much fun. Inside this book you'll find characters you care about and relate to and a romance that feel real and genuine. It's so hard for me to find romances where I feel like the hero and heroine have an actual connection. I felt it in this book so much and I wish that I had more books like this one to devour. Seriously, if you're looking for a fun escape and something great to read look no further!
I'll add a link to Amazon once the book is released!