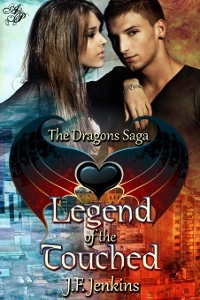 by: J.F. Jenkins
Pages: 355
Published:  May 28th 2012 by Astraea Press
From Goodreads: Darien and Tai Oceina have not been married for long, but already they have one of the most complicated relationships and it hasn't even been a year yet. He is the leader of a nation and a dragon. She is carrying their first child who is supposed to be "the answer". As Darien dives further into the politics of his people, a wedge is driven deeper between him and his wife.
Twin brothers Jason and Matthias Inero were always inseparable. For the first time in their lives they are apart from each other. Matt continues to do the will of their father, the corrupted Dragon Lord of the Inero, while Jason has fled with his bride to an island where he can forget about everything. Or try to. Being possessed by a demon makes that hard to achieve, and as the creature fights to control his body, Jason discovers a lot of shocking truths about his lineage and destiny.
The two worlds of fire and water collide as both dragon tribes prepare for war with the other. Matthias is determined to crush Darien's people. Only an ancient spell will give Darien enough power to fight back and have any hope at winning. The spell is complicated however and requires all four dragon tribes to work together in harmony. Something that is a lot easier said than done.
I really liked that this story was the continuation of the other two novels, so we can see both sides of the story and how the two different types of dragon societies interact with each other. I thought it was a really interesting read and I had trouble knowing which side I should be rooting for. I could see the author's growth as a writer in this novel. I could tell she had really fallen in love with her characters and knew where she wanted them to go. This book is longer than the previous two, but it is a very quick read. I did feel like everything was resolved too quickly and I would have liked a little more considering the investment I'd made as a reader into this series. Overall though, I think this series is great for young adult fantasy fans. Everything was tied up in this novel very nicely and I thought it was a fun and enjoyable read. Can I also just say again how beautiful I think these covers are?  🙂
Buy this from Amazon here: Legend of the Touched (The Dragons Saga)