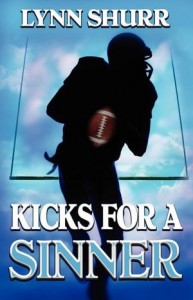 by: Lynn Shurr
Pages: 283
Published: February 2012 by L & L Dreamspell
ISBN: 1603184406
From Goodreads: Redhead Cassie Thomas is all grown up and certain she is in love with Joe Dean Billodeaux, star quarterback for the Sinners and adoptive father to the son she gave away at birth. Joe only wants to expand his family with his wife, Nell, and deflect Cassie's advances that threaten his marriage. So, why not set Cassie up with the Sinners new kicker and possibly the world's nicest guy, Howard Howdy McCoy?
Cassie sees through Joe's attempt and insults Howdy, telling him he is not a real football player and possibly even gay. Howdy knows neither is the case. Regarding Cassie to be as challenging as a sixty-yard field goal, he sets out to prove her wrong even if that involves a personal makeover and a tough new attitude. But will he be able to convince a woman who believes she can love only bad boys to give a nice guy a chance?
Wow, this book was a lot different from what I expected. I liked it though! It was interesting to read, especially because I haven't read any of the other books in this series. This is the third book, and I could tell at certain parts that there were pieces of backstory that I was missing. But I didn't think that kept me from enjoying the story. This novel was very well-written and I definitely felt the spirit of Louisiana throughout it. I like when a book really brings me into the setting, especially when that setting has a culture as rich as this one. I loved that this was a romance, but that it wasn't just about Howdy and Cassie's relationship. They fell in love in the midst of everything that was going on around them with their friends and family. I'll admit that I'm not much of a sports person, so some of the descriptions of games were lost on me, but I still caught on to the drama of it all. I liked that this was a story about all of the characters that were obviously in previous stories, and that their storylines developed as well. I like when a romance series doesn't just focus on the main characters of that romance and barely show how the previous relationships are developing. I loved the chemistry between Howdy and Cassie. It's fun when the characters aren't initially interested in each other. It's more fun than when the attraction is instant. I really enjoyed this novel and would recommend it to anyone looking for a well-written romance with lots of drama.