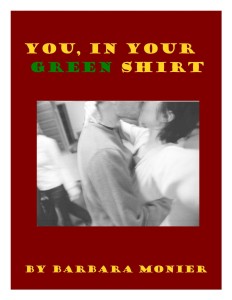 by: Barbara Monier
Pages: 142
ASIN: B00CD9HBQM
From Goodreads: YOU, IN YOUR GREEN SHIRT, by Barbara Monier, follows a woman coming back to life after the disintegration of a twenty-plus year marriage. The book opens with Madeline Bruno and her family sitting around the dinner table as husband Dick recounts his fascination with a new female employee. Within a few quick, jabbing lines, 14-year-old son Jack accuses his father of being "involved" with her, 11-year-old daughter Kate hurls insults, and Madeline has retreated into a fantasy that her once-beloved husband has turned into a giant, scurrying cockroach.
As Madeline struggles through each incremental breakdown of her lovingly-created marriage and world, she is alarmed to find herself having vivid fantasies about her daughter's music teacher. At first feeling that this must be an aberration and indictment of her maternal skills, she gradually allows herself to experience long-numbed feelings of desire for connection. Encounters with the musician, both real and imagined, become more and more playful, flirtatious, and sexual, such as when she attends his very formal concert and imagines hurling herself from the balcony directly into his lap below.
Ultimately Madeline realizes that this largely-fantasied "relationship" has served its purpose; it has enabled her to be ready for the real world of middle-aged, post-millennium dating and men. Neighborhood friends talk her into trying the internet dating scene, which she tackles with utter trepidation but also determination and gusto. Madeline wades through on-line dating profiles. She unravels the protocol of first encounters via e-mail and phone. She has her first "first date" in more than twenty-five years, wandering through a shopping mall with a man before dissolving into tears back in her car.
When daughter Kate notices that the neighborhood "catch" has his eye on her mother, Madeline is more than a little skeptical. But when a four-year friendship between Madeline and Bud crosses the line into romance, the results move quickly from heated passion to an aftermath of woeful regret. Back to the online dating scene, Madeline meets Robert, a long-divorced business owner with a dog Madeline ultimately feels far more affection for than his eccentric owner. Though Robert becomes somewhat of a steady beau, they both agree they should keep the door open to meeting others.
The final chapters of the book find Madeline meeting an internet date at a local coffee house, her fantasies once again taking hold of her as she envisions a new life with him, fully recovered and wholly alive. But it becomes clear that her fantasies are actually memories here. She is telling this entire story to Jim, the story of everything that led to this moment, when she would meet and fall in love with him.
This story was incredibly well-written and fun. I didn't want to put it down. I love the way this author can draw you into a story. This is the second story I've read and reviewed from this author and I think I liked this one even more than the last one. It goes in depth to Madeline's mental illness and I've always found that type of topic fascinating. This story really gives you an insight into what she's going through and makes you feel for her. The transitions between fantasy and present were extremely well done. I found myself getting excited each time it happened because I was loving the story so much and wanted to keep reading. I would recommend this story to anyone who is looking to get sucked into and immersed in a world that is not their own. I love getting inside other people's heads. Especially when it is realistic and really makes me feel like that person like this book did. This book should be getting more attention. If you're looking for something new to read, pick this up!

Buy this from Amazon here:You, in Your Green Shirt