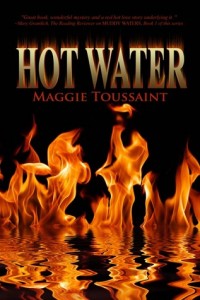 by: Maggie Toussaint
Pages: 323
Published: March 25th 2013 by The Wild Rose Press
ISBN: 9781612178301
From Goodreads: Solving Mossy Bog's first fire fatality could net police officer Laurie Ann Dinterman the promotion she desperately wants. When the state arson investigator arrives to take over the case, Laurie Ann is assigned to give the man everything he needs while keeping him alive. The fact he's the sexiest man ever to hit town shouldn't make a difference.
Hot on the trail of a serial arsonist, Wyatt North demands justice for his partner, the arsonist's first victim. He'll find the murderer or die trying–no matter how distracting the tall, lithe figure of his local partner is.
As the investigation zeroes in on a suspect uncomfortably close to Laurie Ann's life, her cop instincts conflict with her feelings for Wyatt. Worse, the arsonist will do anything to protect his identity. Can Laurie Ann accept the truth in time…or will she and Wyatt go up in flames?
I found this book really interesting. I absolutely loved the interaction between these two characters. I'm not necessarily the biggest romantic suspense fan out there, since I'm more likely to pick up something paranormal or fluffy, but these are the kind of hero and heroine I look for when I do pick one up. Laurie is smart and determined and is the kind of heroine that you can relate to and look up to at the same time. I liked that while she wanted love, she didn't absolutely need it to make herself feel complete. She's okay on her own. Wyatt is, of course, the kind of hero you can drool over for a whole bunch of different reasons. This book was full of action and I never felt that either the action or the romance took up more time than the other. Everything was very equally balanced and well written. I thoroughly enjoyed this read and I think that anyone looking for a romantic suspense to pick up need look no further.