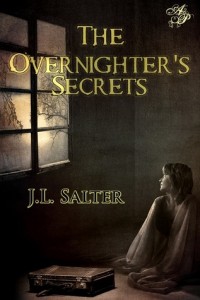 by: J.L. Salter
Published: May 23rd 2012 by Astraea Press
ISBN: 9781621350378
From Goodreads: When Beth left suddenly, it broke two hearts … but she'd had no choice. Shane, a rugged, ex-Airborne biker, handled it badly … but so had she. Three years later and 2000 miles away, she desperately needs her ex-lover's protection from a violent menace with 'bad history' who'll do anything to reclaim a mysterious suitcase Beth possesses.
Long before Shane acquired that overnighter, a 'silent movie' actress kept secrets there … and now several lives are in jeopardy. An ambitious female state senate candidate hires a ruthless investigator to eliminate potential campaign 'problems' like her dark family secret — a bizarre 1889 murder.
Is Beth's terrifying ordeal simply because she unwittingly possesses the overnighter's secrets? Or is it due to the meth-fueled dumpster-diver's 'unfinished business'?
Shane will likely return to California after he resolves this Tennessee 'situation' … so Beth struggles to resist her reawakened feelings. But before she can sort out their renewed relationship … Beth is kidnapped! To rescue her Shane enters an obvious trap in a dilapidated hotel. Only with Beth's help can both survive the violent struggle against her kidnappers.
I enjoyed this novel! I thought it had a little bit of everything. It had suspense, action, history, romance, and mystery. I think that anyone looking for something to keep them on the edge of their seats should pick this up! It's not too long and there wasn't any point that threw me out of the story or where I thought, "Okay, I'm done with this for now." I thought the love story was really good, even if it frustrated me. I didn't really understand why they had broken up in the first place. I thought at least Shane's reasons for that were a little lame, but otherwise I loved their connection. I've always been a sucker for reunited love. I really enjoyed all of the history and detail that went into everything that was in the overnighter. It was really cool. I felt like I was investigating right along with them. I thought the suspense was just right. It creeped me out, but didn't freak me out too much. I loved the librarian character, although I felt like he was a little too sensitive. I find it hard to believe that him being black would really matter that much in the setting they were in. (But maybe that's just my opinion.) It's really cool that this was based off of a true story and I would recommend this book to anyone looking for a good bit of action and mystery in their reading.

Buy this from Amazon here: The Overnighter's Secrets